Subcold Trek32 Portable Car Fridge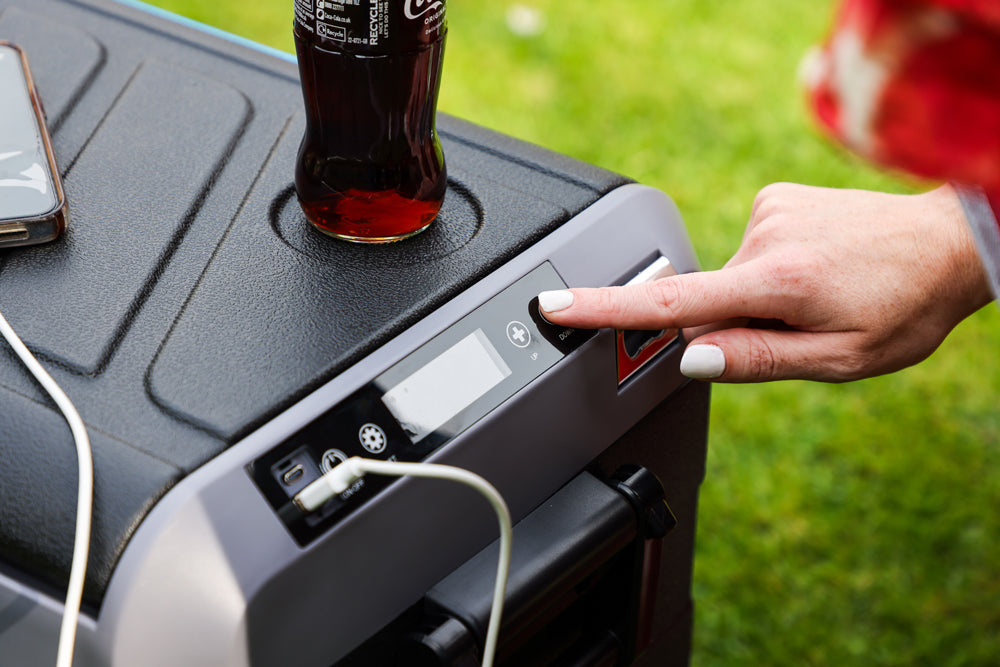 More Info
Introducing the premium Subcold Trek32 Car Mini Fridge, an elegantly designed 12 volt refrigerator that is perfect for your camping adventures and long hours on the road. This 12v refrigerator is the perfect blend of functionality and convenience, offering you a spacious 32L capacity to keep your drinks and food fresh and chilled during your journey.
The Subcold Trek32 is not just an ordinary camping fridge, it is a 12v compressor fridge that operates quietly, ensuring your peaceful camping nights remain undisturbed. Its compact design makes it the perfect car fridge, seamlessly fitting into your vehicle without taking up much space. Equipped with 12v 24v & 240v power options, this car fridge box can plug in anywhere, making it an extremely versatile portable fridge.
Designed for the outdoor lover, this camping freezer is ideal for those who love to travel. It doubles as a 12v fridge freezer, which means you can keep your perishables frozen during your camping trip. The sturdy design ensures it stands up to the rigors of outdoor use, making it the perfect camping fridge freezer.
The Subcold Trek32 is more than just a car fridge 12v 240v, it is also a portable freezer. The high-quality 12v compressor fridge freezer maintains a consistent temperature, keeping your food and drinks at the optimum temperature. For your convenience, this portable fridge freezer also comes with a car refrigerator 12v/240v portable fridge for car, providing an additional cooling solution for your vehicle.
The Subcold Trek32, 12v fridge, is perfect for campervan enthusiasts. This 12v fridge freezer for campervan ensures you always have fresh food and drinks, making your road trips more enjoyable. With its electric freezer box, this mini car fridge guarantees you always have a cold drink at hand.
Experience the joy of travel and outdoor adventure with the Subcold Trek32 12v fridge. It is more than just a portable refrigerator, it is the ultimate travel companion.
What's In The Box
Subcold Trek32 Car Fridge

DC Cord

UK AC Adapter
User Manual
Full 1-Year Warranty
Please note* Outer Box has an image of the product.
Technical Features
Capacity: 32 Litre

Cooling System: BX Compressor Cooling
Temperature Range: 25°C to -

22

°C
Climate Class: SN/N
Energy Class: D
Sound Level: 36dB
External Dimensions: 663.5W x 346L x 455H (mm)
Internal Dimensions: 485W x 260L x 348H (mm)
Gross weight: 13.5 kg
Net Weight: 12 kg
Door material: Plastic
Lighting: 0.7W
Input Power: 52W
Voltage range: AC 100-240V | DC 12-24V
Refrigerant gas: R1234YF
Refrigerant grams: 24g
Lock and Key: Press SET in 3seconds
Certification: CE and UKCA
Plugs included: DC cord and UK AC adapter
AVAILABLE IN 2 SIZES

VERSATILE MINI FRIDGE

LCD Control Panel
Intelligent easy-to-use LCD control panel with a rapid and wide temperature range of 25°C to -22°C.
Quality Build

Designed to endure rugged terrains, the car fridge freezer boasts a shockproof, durable and rugged construction.
Device Charging

Never worry about your gadgets running out of battery because Subcold Trek features USB-A and USB-C ports to charge your devices.
LED Light

Internal LED light to illuminate your contents inside. It gives you a clear view meaning less chances of accidents especially when accessing in dark.
Multiple Power Options
Powered by 12V/24V or Mains 240V connection, making it convenient and efficient camping fridge freezer for your food and beverage needs.
Free & Fast Delivery Excl. Outlying Areas
Multiple Payment Options Secure Payments
Customer Support Excellent Service
Buy Direct From Manufacturer