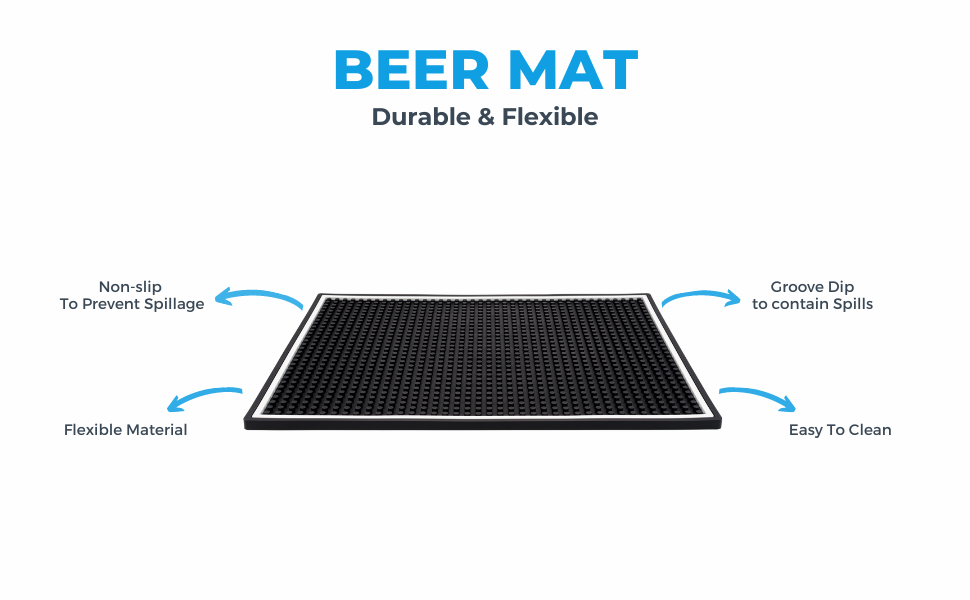 Experience Barcool's service Bar Mat!
Description:
Crafted for the modern drink connoisseur, the Barcool Beer Mat redefines your drinking experience. No longer just a functional accessory, our beer mat merges sophistication with utility, making every drink service a statement of style.
Key Features:
Superior Absorbency: Designed with a thickened top layer, it ensures condensation from your cold beer doesn't dampen your counter, keeping surfaces dry and free from water rings.

Durable Construction: Made with premium materials, our beer mat promises long-lasting performance, maintaining its look and feel even with frequent use.

Sleek Design: Flaunting a minimalist yet chic design, the Barcool Beer Mat effortlessly complements any table setting, be it a casual hangout or a more formal gathering.

Non-Slip Base: The mat's underside is designed to grip the surface, ensuring your drink stays secure and preventing any unwanted slips or spills.

Eco-Friendly: Conscious of our environment, the Barcool Beer Mat is produced using sustainable practices, making it a great choice for the eco-aware consumer.

Multipurpose Utility: While perfect for beer, it's versatile enough for other beverages too, from cocktails to soft drinks, ensuring every drink is served in style.

Easy Maintenance: Resistant to stains and spills, a simple wipe down is all it takes to keep the beer mat looking its best.
Elevate Your Beverage Experience:
Whether you're savoring a craft beer or simply enjoying a soft drink, the BarCool Beer Mat promises not only protection for your surfaces but also a touch of class to your beverage presentation. Let every drink be an experience of refined elegance.
---
Stay cool, stay classy with BarCool.
Free & Fast Delivery Excl. Outlying Areas
Multiple Payment Options Secure Payments
Customer Support Excellent Service
Buy Direct From Manufacturer