Pro 6L Mini Fridge - Black | Refurbished
Condition
As New - Unused
Refurbished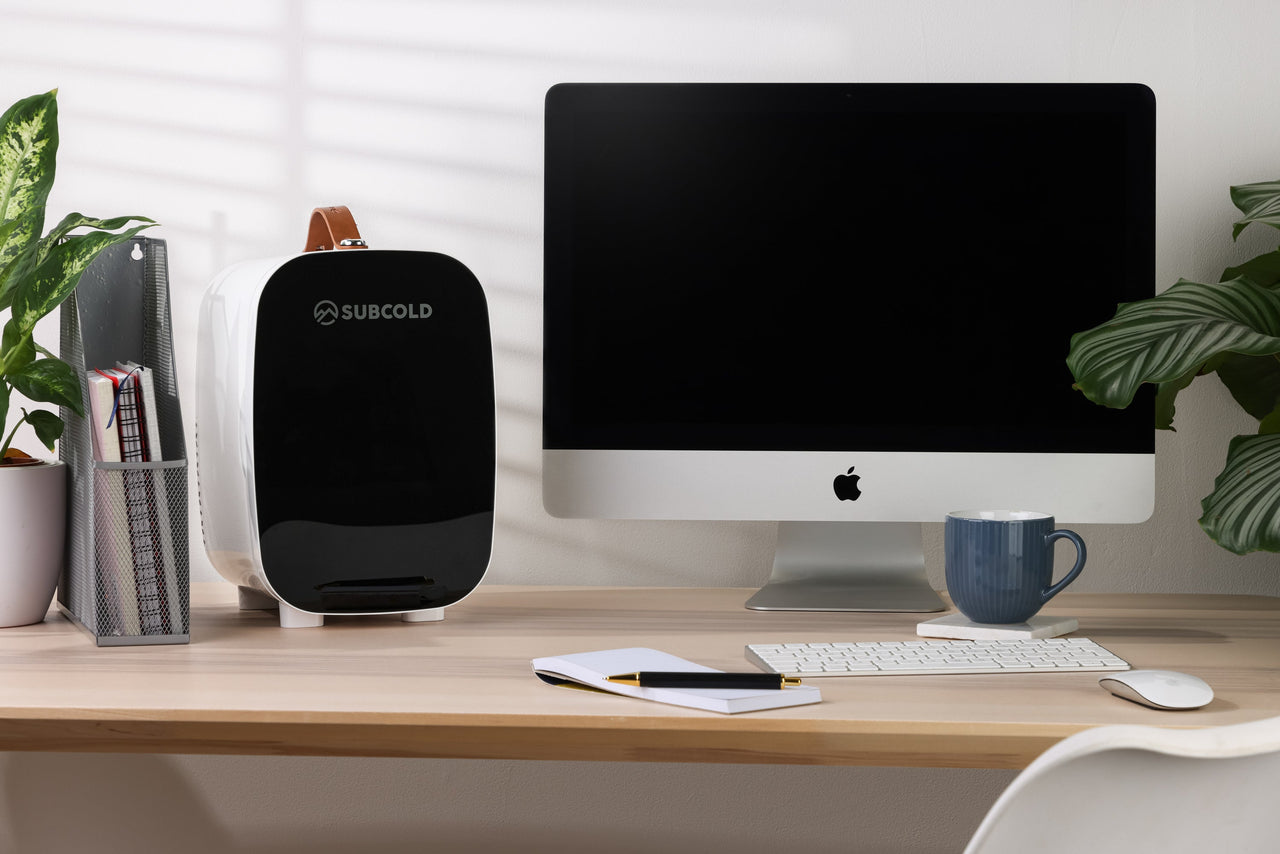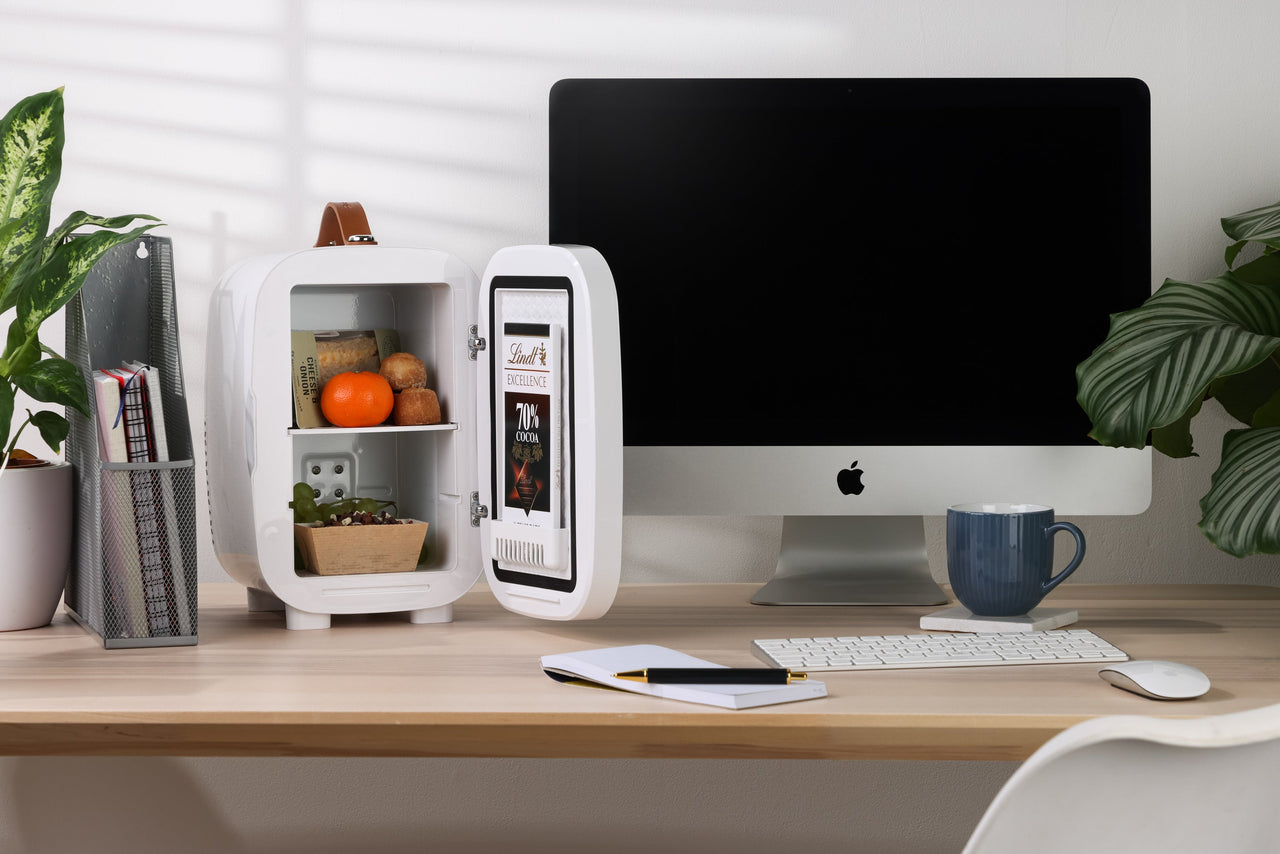 As New - Unused - may not be in original packaging
Refurbished - Professionally refurbished by Subcold - Product may have small cosmetic marks. 
EAN:5060735070711 

PRO 6L MINI FRIDGE - BLACK
More Info
The Pro 6L is a luxury Mini Fridge with an advanced thermoelectric cooling system to cool up to 18°C below the ambient temperature. This mini fridge is perfect for the office, salon, bedroom, or car. It is even great for camping & road trips! With a 6L capacity, hold up to 8 cans of your choice inside.

The Pro6 is customizable with a removable shelf, allowing you to store larger items. This Mini Fridge is lightweight and portable: 6L mini fridge measures 208W x 260D x 322H (mm) and weighs just 2.46kg.

Its storage capacity is customizable with a removable shelf, allowing you to store larger items. There is also a storage pocket on the inside door, to keep your contents organized.

The two alternatives for powering this unit are a wall socket (AC) and USB lead. The powerful semiconductor refrigeration chip with low power consumption is only 20W at 230V, making this unit the most energy-efficient model in the market!

It is super quiet when in operation, with a sound output of 28dB. Pro6 features a high-grade brushless DC fan motor, which makes it ultra quiet and perfect for bedrooms, offices and your car.

Extend the shelf life of your skincare and cosmetics products. Keeping them cool with Pro6, will help preserve their efficacy and longevity. Particularly great for organic products.

You can buy with confidence with a 1-Year Warranty. UKCA, CE, WEEE, and RoHS Certified. Built to last with a durable ABS outer casing and finished with a grab & go premium leather carry handle.
What's In The Box
USB Lead

AC Lead

Mini Cooler

Luxury Leather Handle

User Manual
Full 1 Year Warranty
Please note* Outer Box has an image of the product.
Technical Features
Capacity: 6 Litre

Thermoelectric

 

Cooling Technology
Temperature Range 15 -18°C below ambient temperature
1 Removable Internal Shelf and Mini Pocket on the inside door

Dimensions:

208W x 260D x 322H
Net Weight:

 

2.46kg
Multiple Power Options: UK Mains Plug AC and USB
Suitable for: Bedroom, Office, Outdoors, Camping, Car and Caravan
AVAILABLE IN MULTIPLE COLOURS
VERSATILE MINI FRIDGE

Snacks & Drinks
A perfect personal mini fridge to keep your snacks and drinks perfectly chilled just the way you need it. It has a storage capacity of 6 litre meaning you can store up to 8 (330ml) cans.
Skincare Fridge

Extend the shelf life of your skincare, makeup, and beauty products. Keeping them refrigerated will help preserve their efficacy and longevity, especially for any organic products.
Semiconductor Cooling Chip

Equipped with 2.5A Powerful Semiconductor Cooling Chip offering less than half the energy consumption of 20W comapred to 40W of most other mini fridges.
Quiet & Peaceful

This small fridge features a brushless high-grade fan motor for peaceful running. It has a very low noise output of only 28dB making it suitable for use in bedrooms, study rooms and offices.
Multiple Power Options
A versatile mini fridge with multiple power options AC and USB. You can also connect it to a 2A power bank. This means you can use this mini fridge in car, caravan, and motorhome.
Free & Fast Delivery Excl. Outlying Areas
Multiple Payment Options Secure Payments
Customer Support Excellent Service
Buy Direct From Manufacturer