Subcold Style 4L Mini Fridge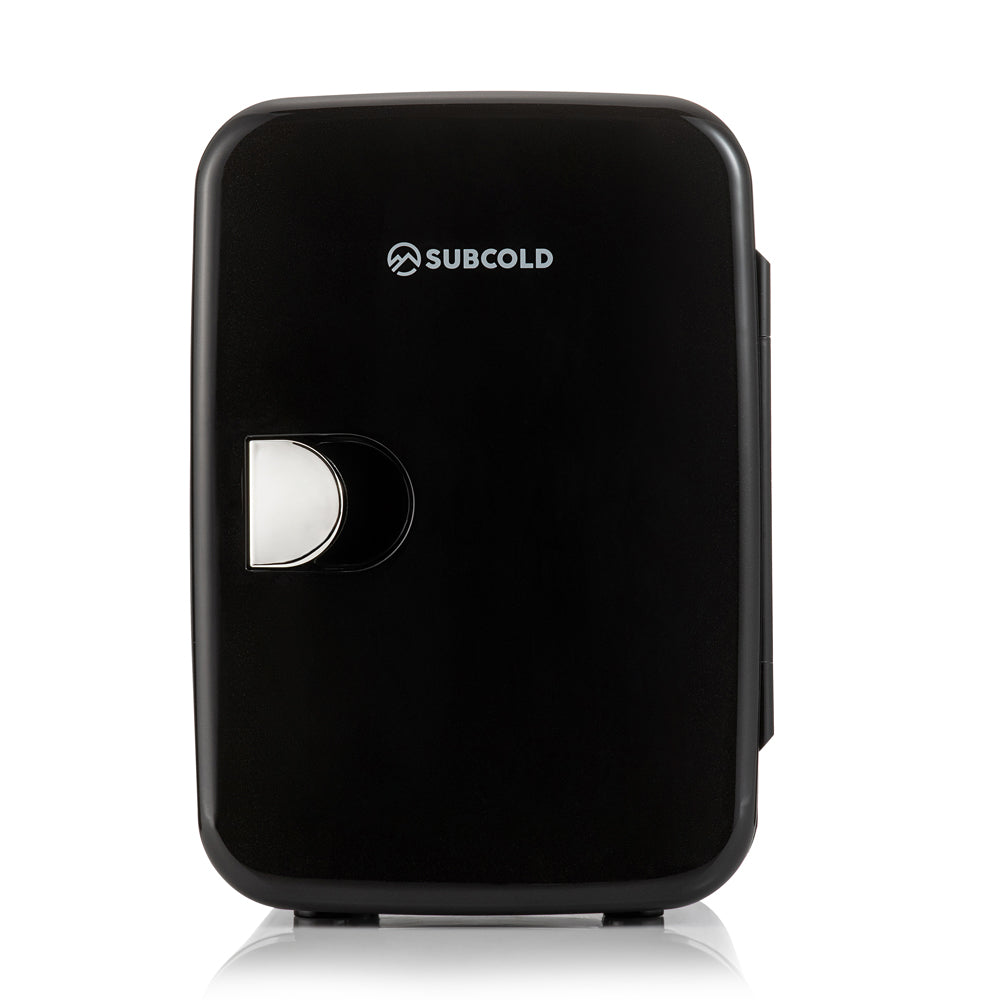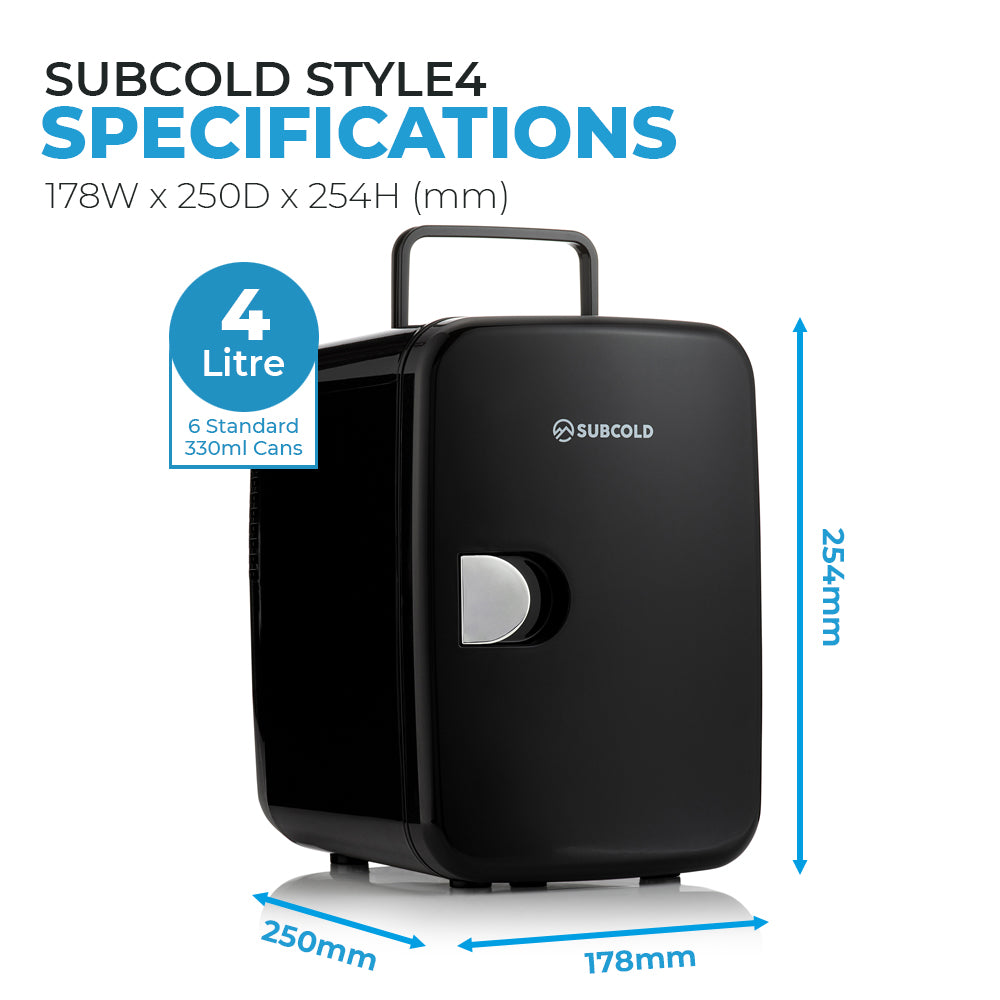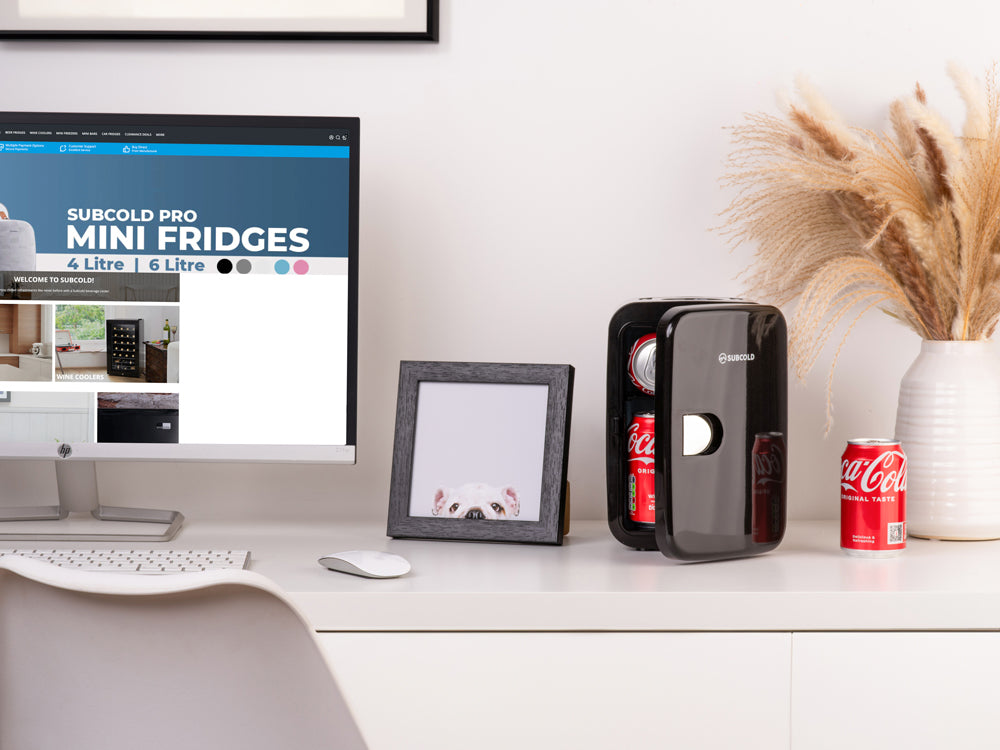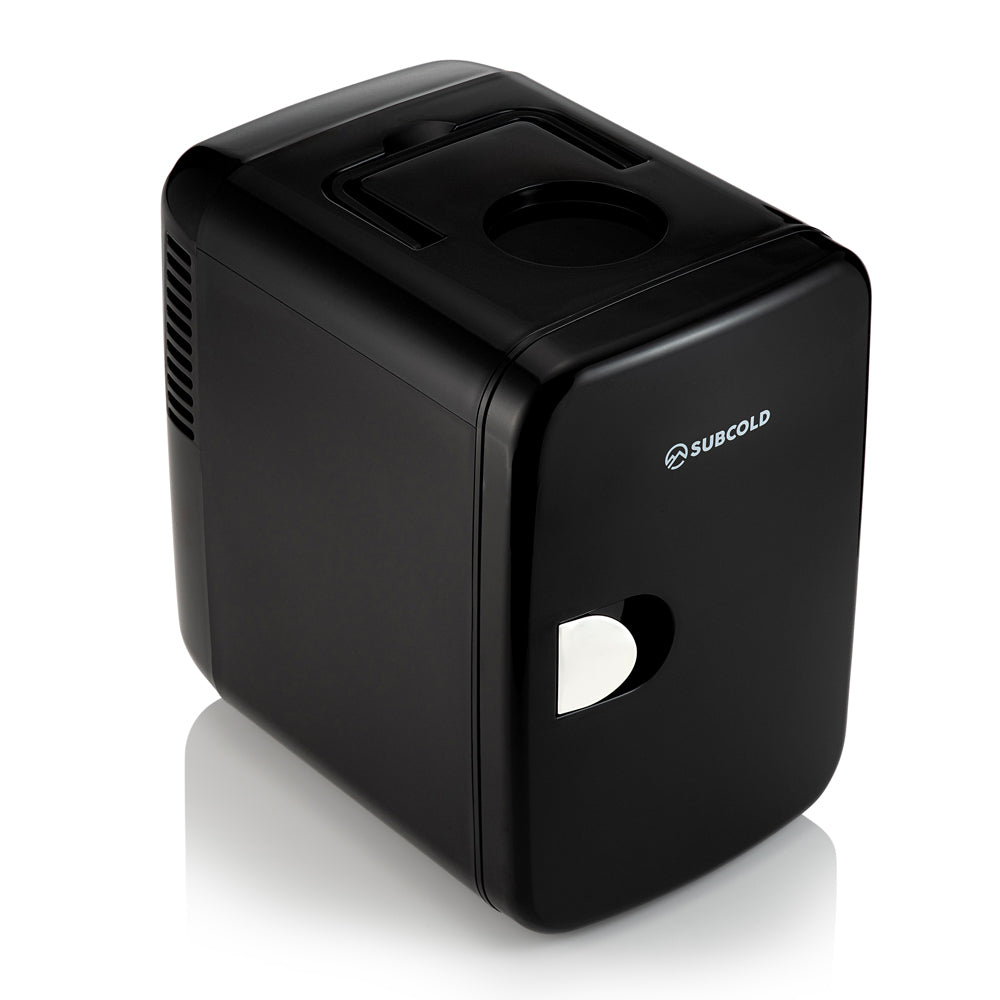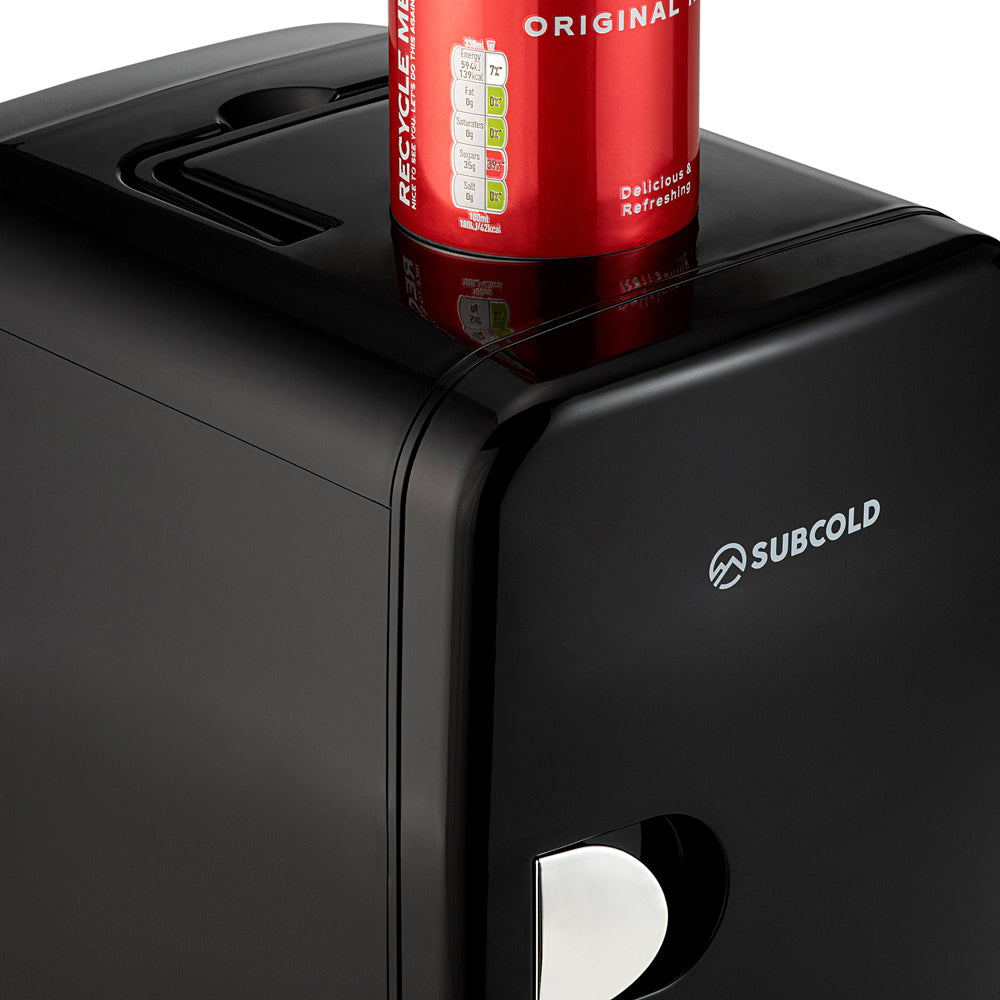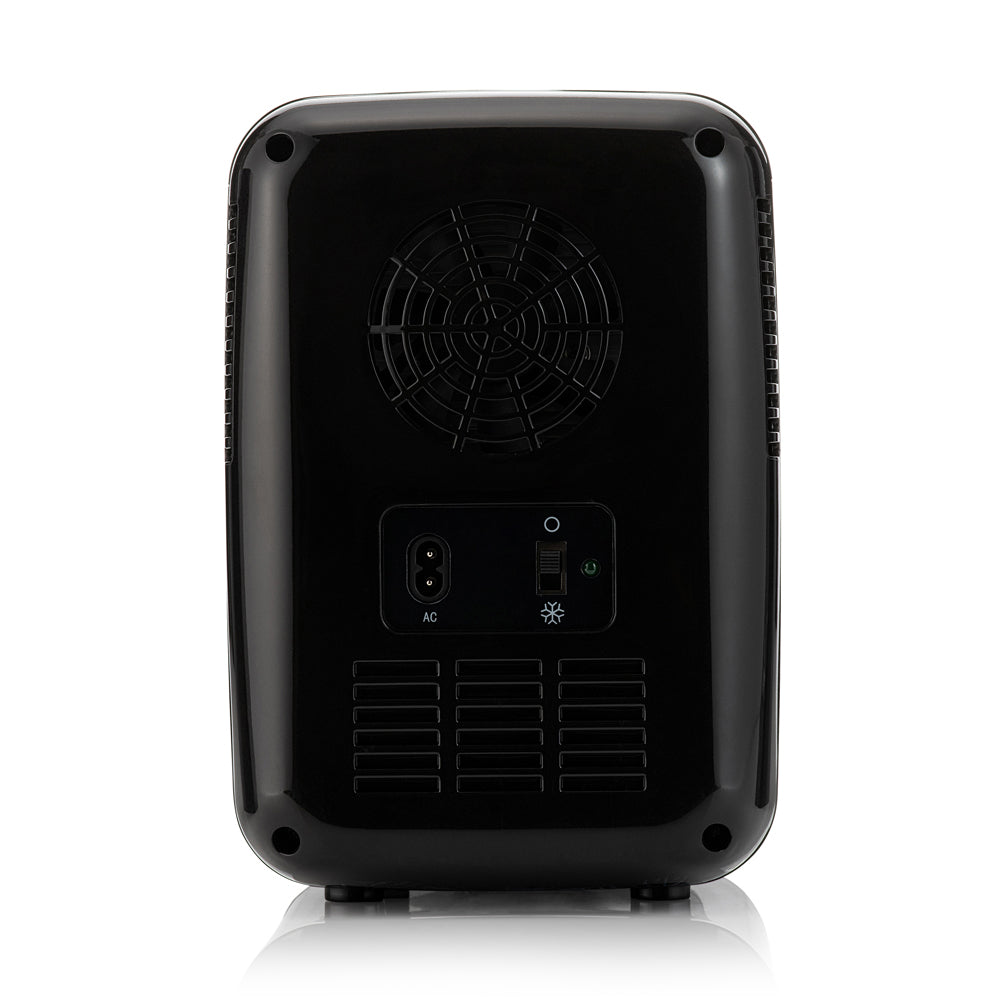 4 LITRE MINI FRIDGE
More Info
The Style4 mini fridge has a state-of-the-art semiconductor cooling system: to cool to 15°C below the ambient temperature. With a 4L capacity, you can fit up to 6 standard (330ml) cans and enjoy convenience at your fingertips.
The storage is customizable with 1 removable shelf which allows you to store larger items. This Mini Fridge is completely lightweight and portable: Style4 measures 170W x 230D x 250H (mm) and weighs just 1.9 kg. 
The fridge is equipped with the powerful 3A semiconductor refrigeration chip with low power consumption of only 36W at 230V: making it one of the most energy-efficient model in its class!
It is super quiet when in operation with a sound output of 30.5dB. The Style4 model is perfect for bedrooms, offices, and hotels: due to it being lightweight and quiet.
Lengthen the shelf life of your skincare and make-up products by keeping them cool. Particularly good for organic products.
Style4 Mini-fridge comes in a variety of colours including black, grey, and white. There is a style for any atmosphere and preference, let your mini fridge stand out or blend in. 

You can purchase with assurance, with our 1-Year Warranty. GS, CE, WEEE, and RoHS Certified. 
What's In The Box
Subcold Style4 Mini Fridge
1 Removable Interior Shelf
AC Power Lead
User Manual
Full 1-Year Warranty
Please note* Outer Box has image of product.
Technical Features
Capacity: 4 Litre

Advanced Semiconductor Cooling Technology
Temperature range 15 -18°C below ambient temperature
Climate class: SN/N

Sound level: 30.5dB
Gross weight: 2.32kg
Net weight: 1.9kg
Door material: PP
Input power: 36W
1 Removable Internal Shelf and Mini Rack on inside door
Certification: GS / CE / RoHS

Plugs included: BS
VERSATILE MINI FRIDGE

Snacks & Drinks
A perfect personal mini fridge to keep your snacks and drinks perfectly chilled just the way you need it. Ideal for use in offices, bedrooms, or entertainment spaces.
Skincare Fridge

Store skincare products at cooler temperatures, providing a refreshing and soothing application experience. Extend their shelf life and preserve their efficacy and longevity.
Convenience

Style4 mini fridge offers convenience of having chilled beverages and snacks readily available in you personal spaces. Enjoy quick and accessible refrigeration in various settings.
Quality Build

Sleek and stylish with quality build. Equipped with advanced semiconductor cooling technology making it very efficient and economical.
Quiet & Peaceful
Whisper quiet with only 30.5dB sound level, making it unobtrusive addition to various environemnts. Perfect for those seeking a peaceful coexistance with their coolign solution.
Free & Fast Delivery Excl. Outlying Areas
Multiple Payment Options Secure Payments
Customer Support Excellent Service
Buy Direct From Manufacturer