Subcold Eco100 LED Under Counter Fridge - White | Refurbished
Condition
As New - Unused
Refurbished Grade A
Refurbished Grade B
Refurbished Grade C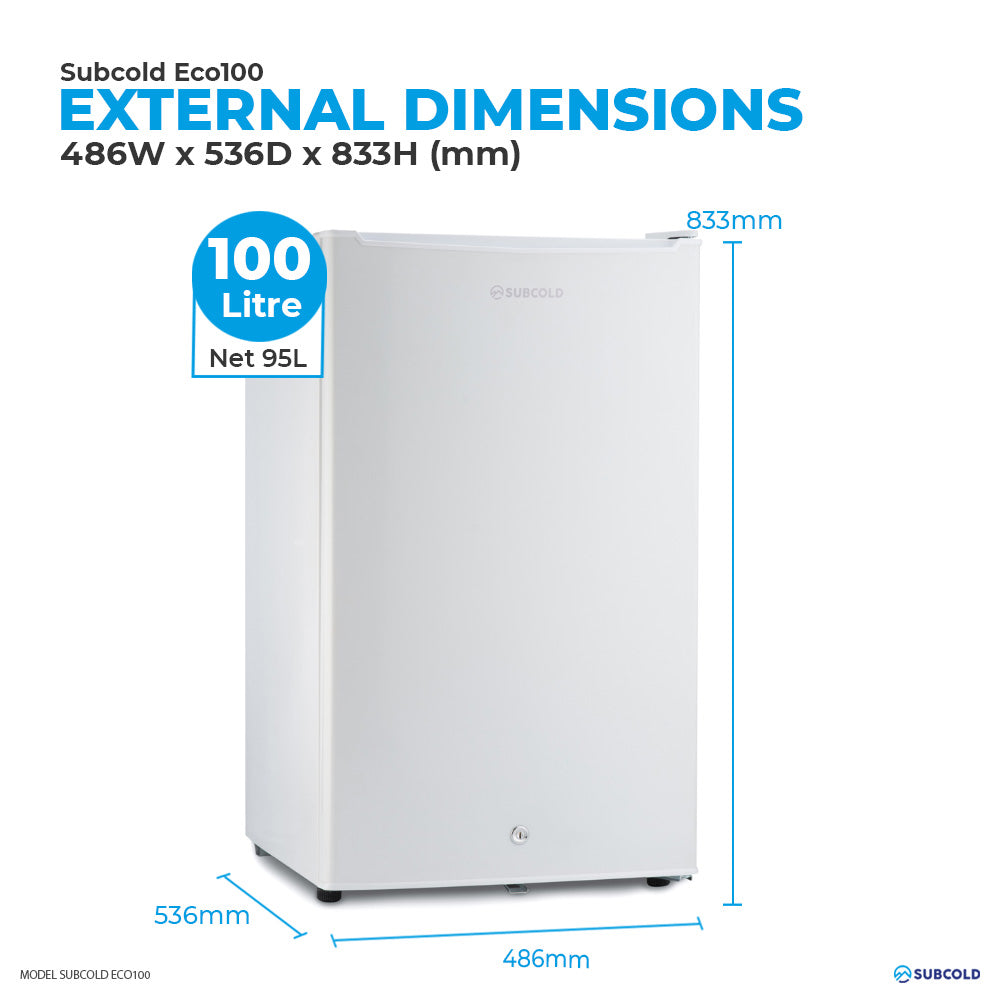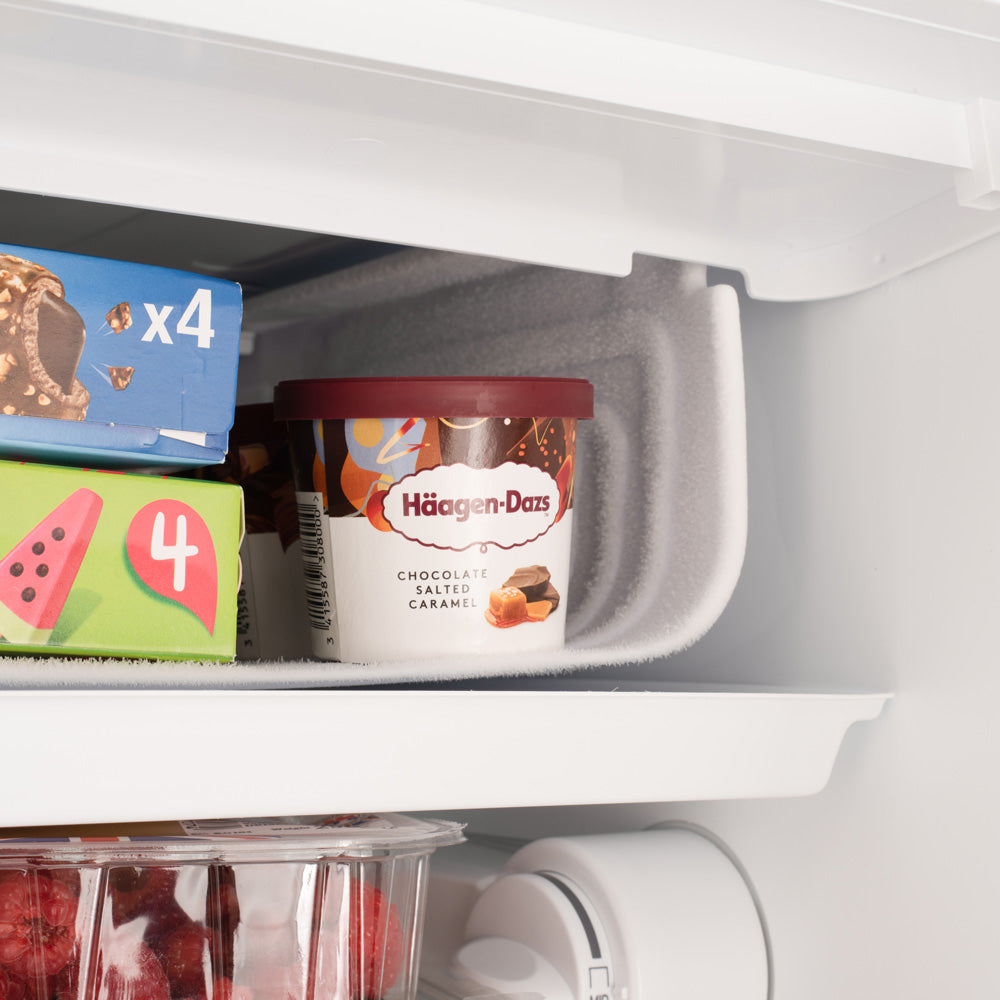 As New - Unused - may not be in original packaging
Refurbished Grade A - Excellent - minimal cosmetic marks
Refurbished Grade B - Good - may have light scratches or small dents
Refurbished Grade C - Fair - has cosmetic damage, but works perfectly
100 Litre Undercounter Fridge
×
This appliance was A+ on the A+++ to D Scale.  Learn More
More Info
The Subcold Eco100 LED is an undercounter fridge in colour white designed to compliment all environments. You can rely on this fridge to keep your snacks and drinks perfectly chilled. It is a fully automatic fridge featuring advanced compressor cooling technology. The temperature range is 0°C to 10°C, easily adjustable with a thermostat located inside the fridge. This under-counter fridge is perfect for home, commercial and office use.
The storage capacity is 100 litre and comes with plenty of integrated storage features. There are 3 removable shelves inside to provide you configuration in storage according to your needs. The door includes 4 pockets with one of them designed specifically to hold all your canned drinks. There is also a chiller box to add extra cool to your contents.
The Subcold Eco 100 is very economical consuming 116 kWh/annum. It runs smoothly in the background with a noise level of only 41dB. It will make a smooth addition to your personal space without causing much disturbance. This fridge is super-stylish and will make an outstanding transition to any table-top, desk, home bar, or counter.
Essential for summer BBQs, the Subcold Eco 100L Undercounter Refrigerator will free-up space in your kitchen fridge by providing additional chilled storage for drinks. It's great for camping trips too, and you can connect it to any generator. It is lockable to prevent unauthorised access.
In summary, Subcold Eco100 is the perfect under-counter fridge for the entertainer. It is large enough to accommodate a variety of bottles and cans, and there's even space for ice-cube trays, and its stylish design complements all entertainment areas. This modern fridge comes with a free full 1 Year warranty for your peace of mind!
What's In The Box
Subcold Eco 100 White Undercounter Fridge
3 Removable Glass Shelves

1 Vegetable Box
Set of 2 Keys
UK Mains Power Lead
User Manual
Full 1-Year Warranty
Please note* Outer Box has image of product.
Technical Features
Storage Capacity: 100 Litre (Net 95L)
Advanced Compressor Cooling Technology
Quality Build with High Density Foam Insulation
Temperature Range: 0°C to 10°C (+/- 2°C)
Adjustable Thermostat
Chiller Box (1* - Up to -6°C)
3 Removable Shelves and Door Pocket Storage
Lockable with Key (2 keys supplied)
Reversible Door
Adjustable Feet
Dimensions: 486W x 536D x 833H (mm)
Net Weight: 21.5kg
Low Noise 41dB
Available in 3 Variations: 50 Litre, 75 Litre and 100 Litre
Suitable for: Home, Office or Commercial use
PACKED WITH FEATURES
Energy Efficient
The Subcold Eco100 is equipped with advanced compressor technology cooling for optimum performance. It is a very economical fridge with an impressive energy consumption of only 116kWh/annum!
Chiller Box

The perfect mini fridge that includes a small chiller box for extra coolness. The chiller box operates at a temperature up to -6 degrees Celsius, perfect for items that need to be cooled quickly.
Flexible Storage

This 100L fridge offers customisable storage with 3 removable glass shelves and door pockets for extra storage space. This fridge includes a vegetable box and a drinks can dispenser. 
LED Light

An internal white LED light to display your snacks and drinks inside which can be left on or off. It gives you a clear view meaning less chances of accidents especially when accessing in dark. 
Safe & Secure
An undercounter fridge with built-in security lock to keep your alcohol beverages safe and secure from unauthorised access. A set of 2 keys are provided with the fridge.
Free & Fast Delivery Excl. Outlying Areas
Multiple Payment Options Secure Payments
Customer Support Excellent Service
Buy Direct From Manufacturer